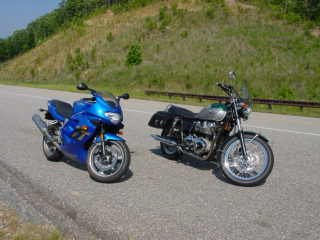 Triumphs on Loan
Any motorcyclist used to his territory has familiar, favorite and sometimes secret roads. These byways are our solace, a getaway from daily drudgery. A big nipple if you will. Too much familiarity, even one that stimulates, can become commonplace without an occasional divergent destination. So to with our trusted machines, the bike that feels so familiar now, once was new and remote. A comfort level isn't reached until that first long journey, when rider and machine become acquainted, concessions are made and riding style adapts to the idiosyncrasies of each new mount. Call it a challenge, taming another two-wheel beast or just growing as a rider. There is a satisfaction, after spending many miles of intimacy, learning the limits and assimilating all the variables and capabilities until by the end of the journey rider and ride have synchronized.
The opportunity to step out of that comfort zone, familiar bike on familiar roads, recently presented itself. New roads, new bikes! While in Georgia, covering the AMA Big Kahuna National at Road Atlanta, the kind folks at Triumph motorcycles invited SarniMotorsports.com former technical editor, Doug Booth and myself to ride a pair of their new machines. Race coverage duties and impending foul weather limited our road test to one day. One Very Hot Day! We were on two machines that couldn't have been more different, the new age retro Bonneville 750 parallel twin and the fuel injected inline four TT600. Both beautiful, the Bonny a British Green and the TT in Electric Blue. These machines were so far apart in purpose and performance; they may have well been painted black and white.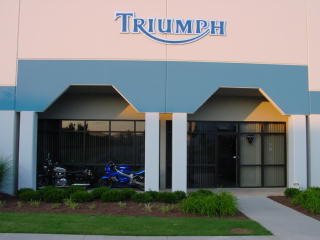 Triumph Headquarters
We set out from Triumph America's headquarters with the agreement that we would switch off on the bikes from time to time. I began on the Bonneville and Doug the TT. He immediately made his first mistake of the day - following me out of the parking lot! After we reversed direction, we headed west on Route 34 towards the Alabama border. Man it was hot, mid 90s; at least I had a logical reason for the perspiration! It had been years since I had ridden a cruiser style motorcycle and it felt a little like when you try to put your left foot in your right shoe. The awkward feeling shifted to a new awareness with each turn of this polite machine's spoked wheels.
Doug and I had sort of an unspoken agreement on this journey, something that only comes after riding together for many years and many miles - don't ride past any Bar-B-Q joints! We both spotted it, a rustic cabin with the telltale smoker in front. Doug looked back at me, I turned my left palm to the sky and he knew I was telling him, "do you have to even ask?" J & J's Bar-B-Q is on the south shoulder of Route 34 in Franklin, GA, just before the Route 100 junction. The menu board didn't say what kind of Bar-B-Q, just "SANDWICHES $2, PLATES $5 and BY THE POUND $8.50". Four sandwiches, two drinks -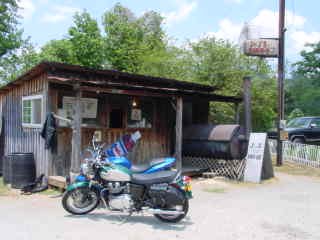 Outside JJ's Bar-B-Q
ten bucks. We ate our lunch on the steps, in the hot sun, in hog heaven. A steady stream of customers visited J & J's, every one of them admiring the pair of Triumphs and questioning our choice of riding gear in the heat. "Awful hot in them there leathers isn't it." Even from the paramedics! Between Bar-B-Q bites Doug delivered his best line of the journey - "It gets awful hot sliding down the highway without one though." The Yankees and the Rebels were getting on fine and we didn't look that out of place until after lunch when Doug asked one of the J's inside the 5 x 5 shack, "do you have a men's room?" Mistake number two.
We were soon cruising again; at least I was on the Bonny. Doug was sportin' on the TT. Happy and content, with hot air cooling my sweat and a full gut, I was just getting used to my new friend. Soon after we crossed into Alabama Doug hauled the TT down from speed with a mere two-finger pull on the mighty front brakes. Needless to say, with one less rotor and a spongy lever, I shot on by. What is he up to now I thought, turning around slightly irritated because I was just in a groove. I caught the TT's taillights pulling into a graveyard - another rest stop. Leaning on the bike, in the shade I noticed the name on a near by headstone, YARBOROUGH. I couldn't help but think that here in the land of NASCAR, they must be relatives of Stock Car Legend, Cale Yarborough.
It was now my turn aboard the TT, a bike that I adapted to much quicker and to me, was easier to ride. Now Doug was the English Gentleman aboard the polite Brit bike, sitting upright all prim and proper as if sipping a spot of tea. We headed north on Route 441 and then west on Route 48. We stopped on the bridge over Lake Wedowee and felt the first cool breeze of the day coming of the man-made lake, also known as R.I. Harris Reservoir. It was time to stop for gas and the realization that we were becoming dehydrated, we filled up with water and topped off the bikes in Lineville and headed north on Route 49.
Making our way through the rural back roads of Georgia and Alabama both of us noticed that just about everyone we passed waved to us. I always heard about southern hospitality and now I guess I was witnessing it. Either that or they liked Triumphs, maybe it was both. The roads were starting to show some elevation change and we finally found some shade along our route from the late afternoon sun. It was definitely starting to cool off; it must have been all the way down to 89. The road was really starting to get good now as we neared the Talladega Mountains. We were approaching motorcycling Mecca.
We entered the Cheha Wilderness and Route 49 ended, but not before some great twists and turns (I was glad that I was on the TT) Turning onto Route 281 south we entered Cheha State Park on what is also known as Cheha Mountain Road. Awesome! No traffic, smooth roads and beautiful weather. We pulled into the park entrance, replenished the fluids and made friends with a Triumph admiring Tennessee native, who now lived Anniston. He had recently sold his ZX 7 and adopted a daughter. His eyes said that he was ready for another motorcycle. Recently refreshed, we set out once again on 281, which turns to dirt seven miles further in. We stopped to enjoy the view and spotted an eagle circling overhead. It was still hot and smoke hung in the air, there was a fleeting spiritual moment that lasted until the Eagle soared out of sight.
Switching bikes and reversing direction at the dirt road, it was my turn to negotiate the sweepers on the Bonny. My thoughts were running inside my helmet as I was obviously acquainted enough with my new friend to daydream, how cool is this, I was thinking? I'm seeing places I've never seen, negotiating roads I never thought I'd ride on. The anxiety of the unknown, both bikes and territory had vanished, as if the great Bird of Prey had snatched that uncertainty and winged it away. This was rider's bliss and I was relishing it.
We continued on 281 to 78 east into Heflin, where we picked up 46 south. We stopped for more fluids in Ranburne, our brains slightly fried, but remembering that the bikes get the gas, we get the water. More Triumph admirers and at this point we were too tired to tell anybody they weren't our bikes. Sort of like, not letting on that the escort you've brought to your class reunion isn't really your mate. Hey, I'll never see these people again; they don't need full disclosure. Another switch of the bikes, to keep things interesting and we were on the road again.
Crossing back into Georgia, we picked up Route 100 south in Bowden. Buzzing along when suddenly, a Chihuahua came bounding towards the road - decisions. It made the right one. Another dog, a much bigger hazard was lurking in the grass. Since this would be worse than hitting a squirrel, my eyes widened a bit more and then thankfully, it slinked deeper into the underbrush. Riding a bike is much like the business world, as much as you'd like to think that you are in control, we are all at the mercy of animals. Trouble, real or imagined is always lurking about.
| | | |
| --- | --- | --- |
| | | |
| Old Bike Reflecting New | New Bike Reflecting Old | |