2011 SEBRING TRAVEL LOG
The stories of the people that travel to central Florida each spring for the Mobil 1 Twelve Hours of Sebring are what make the event unique. Their paths to the airfield in the orange groves are as varied as their numbers. The following is an account of my travels and experiences that brought me together with over 100,000 others who share my passion.
No matter what is happening in a Sports Car fanatic's life, in the off-season dead of winter thoughts turn towards the kick off of another season, warm weather and the sights sounds and smells of Sports Cars.
After enduring one of the worst winters on record in New England and receiving constant updates from the ALMS and team press releases, all other responsibilities seem to diminish as the primal urge to be a part of not just a race, but an event like no other. I had to find coverage for my radio show and work as President of the non-profit Blues Trust Productions could be made up. The challenge to find coverage and care for my 92 year-old Dad, who lost his wife of 66 years last spring, was critical. Two care providers, family and friends had me feeling a little less anxious about traveling to Sebring. Arrangements were even made for play dates for Okie Dokie, the family German shepherd..
Like previous Sebring pilgrimages, they start with the enticement of good friend George Andrade, a former teacher in Europe with the Department of Defense, who originally hails from Coventry, Rhode Island. Credential request filed and flights booked, I departed from Worcester, Mass., bound for Punta Gorda, Florida. I met a single Mom on the flight, who lost her husband in an automobile accident. She was traveling with her adorable 7 year-old daughter Brooke; who drew me a picture and asked me to quiz her on addition and subtraction. Too cute; by the end of the flight I was Daddy G.
George and his wife Julie traveled the half hour from North Ft. Myers to greet my delayed flight and by the time we got back to their place it was 1:30 and time for bed. The next day was all about final preps for the weekend; shopping for supplies. We found a great butcher shop called Mario's, where I picked up a beautiful 11 pound brisket to put on the smoker for the weekend. I stuffed my suitcase full of Sugar Maple wood from my backyard, eager to show the southerners some northern BBQ. The 2 pound coil of sausages looked too good to resist and they were added to the weekend menu. A trip to Total Wine completed the provision portion of the program.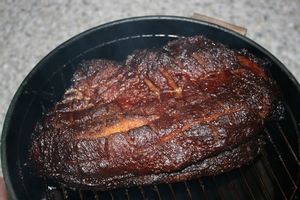 I made arrangements to meet an old friend, who lives in Naples, Florida. George and I drove down to Estero to meet up with Mike McLaughlin. Mike and I worked together at WMVY on Martha's Vineyard in the early 90s. It was great to see him again and reminisce over some food and drink.
On Wednesday, it was time to get the meat on the smoker. George and Julie were going out on their boat and I could join them, leaving the BBQ unattended for a couple of hours or stay and fuss over the cooking. I hung out to do the job right. Twelve hours later, the smoky goodness was wrapped up in foil and placed in a cooler. Early Thursday morning, the meat was still warm, carved and packed and we were off for the track in the Challenger RV.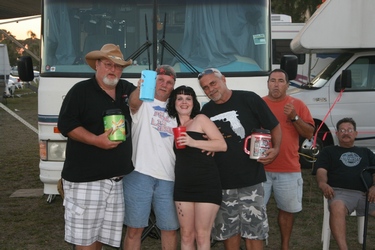 Camping at Sebring takes many shapes and forms. There is a huge difference is parking prices for reserved and unreserved spots; hence the ritual of lining up a month ahead for the prime, unreserved spots. We like to roll in and stay close to the front gate and the hairpin for easy access out on Sunday morning and a short walk to the paddock for those sunrise photo meetings. Our first foray to the hallowed ground brought us in proximity to the Fabulous Porker Boys; a collection of hard partying workers from Tampa Airport, who could all easily fit the Redneck stereotype. They fill 52 ounce travel mugs with Jim Beam and Coke from the time they arrive until the time they pass out. Then they get up and do it again; all the while blaring music at high volume 24/7. These guys have been coming to Sebring for decades and have yet to see a car!
I attended the mandatory photo meeting, got my blue vest and went trackside to capture some images. Most racetracks have gated access to shooting areas. At Sebring, you either catch a photo shuttle in the north paddock or hop the chain link fence. My excess baggage and hernias didn't make this an easy chore. The photo meeting spoke of all kinds of safety precautions, but apparently being impaled on a chain link fence isn't among them!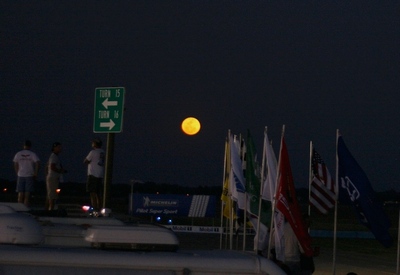 I love Thursday night practice at Sebring. Glowing brakes, after run exhaust belching flames and the smell of hot engines perfumed by the sweet smell of oranges are more telling on where I'm situated than any GPS could. I end the session at Turn 10 and hang out with like-minded souls there and at F Troop for some after session festivities. Back to camp, the Fabulous Porker Boys are at it full bore. This year they brought a discarded United Airlines departure board and programmed their own messages to scroll across the screen. Spelling is not their strong suit. The lights of the message board mounted on the front of the bar and the sweet rum punch are an intended to lure young ladies to the Porker Boy Lair. Needless to say, sleep was intermittent and 6:30 AM came without much rest.
Audi always has their drivers available to the press for a "meet and greet" and this is always a much anticipated pleasure for me. I had a great conversation with Dindo Capello and updated him on the status of the Michele Alboreto biography, which I wrote with Michele's brother Ermanno. Dindo talked about his first victory at Sebring 10 years ago, which was Michele's last race and last win before his death in Germany two months later. We talked of the race the next day and who he felt his main competition was. He was dead on, picking Team ORECA Matmut, with the proven older Peugeot 908 Hdi-FAP as Audi's strongest competition.
The conversation also compared the R15 TDI plus plus and the new R18 TDI closed cockpit prototype. Dindo has set himself up for his post race career with two Audi dealerships in Northern Italy. At 47, it is getting to be that time and in fact, his time in the prototype is set to diminish this year.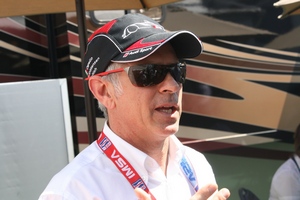 I said Hi to Allan McNish, another class act and Tom Kristensen, who was suited up ready to qualify the #2 Audi and went out of his way to greet me.
I ran into John Dagys from Speedtv.com and David Friedman, the original staff photographer for Shelby Racing and the author of Trans Am. I gave him a copy of one of the live Boston Blues Festival CDs, which I produced. As I left to catch the tail end of qualifying, I felt grateful for the access to the team and thanked Eva-Maria Veith from Audi Motorsports communications for all of her hard work.
As a communication professional, social interaction, person to person or in the form of broadcasting and writing is always on my mind. I base my behavior both on the good example of people that I have met (like Michele Alboreto and his Audi teammates, who he obviously influenced) and the bad behavior of those whose actions that I have witnessed and vowed to never emulate.
While working Sports Car races I have witnessed tension between the blue vests, who have more limited access than the orange vest, season hard card carrying veteran photographers. Many, but not all of the seasoned photographers feel threatened that these "amateurs" will steal their living out from underneath them by under pricing or giving away images. This insecurity is usually unfounded and uncalled for. The irony is that the, "I'm better than you" attitude, because of the color of my vest, isn't really apparent in the really great photographers, who actually are better.
Media centers are cramped quarters and there certainly isn't extra room for attitude. People usually have to stop what they are doing and move to allow others to get to their seat. I am always glad to do so. But when I asked a photographer working for Level 5 Motorsports to kindly unplug my power cord and battery charger, instead of handing me the battery pack, he tossed them on the floor. I walked between the tables and bent over and picked the separated charger and battery off the floor. Even though I wanted to choke him, I just said, "thanks a lot," Trust me dude, you are not as cool as you think. What I was really thanking him for, was not his inconsiderate behavior, but the example that he set for me on how not to act.
Before I had photo access I was the fan on the other side of the fence, trying my best to get a shot. I saw many credentialed photographers, who apparently felt that their vest gave them the license to stand in front of fans trying to capture an image. I vowed to always be considerate of all photographers, vest or not. I try my best to get my shot, get out of the way and move on. That goes for out on the circuit or in the cramped pits, where teams don't need the extra challenge of meddling media.
Friday night at Sebring is party night. For those that just see the on track action during the day, they are missing half of the experience. Whether it is the Green Park partying or high rolling trackside rigs parked along the Le Mans Curve, the feeling is electric. The tradition of cruising at Sebring is a curious one. People load into the back of jeeps, pick up trucks and specially built rigs to drive around in circles, stir up the dust and people watch. With the copious consumption of intoxicants, how anyone hasn't been run over dead never ceases to amaze me.
Butch and the Porker Boys across the way are providing more entertainment than a season worth of Charlie Sheen sitcoms. Yelling over music, motors and inhaling in pounds of dust left me hoarse. By 4 Am it is apparent that we have camped next to the Sebring Champions of noise and nuisance. It is possible that I caught a few winks during the night, but by 6 AM I have to get set to walk over to the base of the tower for the 7 AM mandatory photo meeting. Heading out the camper door in darkness, there is an eerie fog, filled with dust and smoke from a stubborn peat bog fire five miles away. It rekindles each afternoon in the heat of the day, its smoke dragged down to the ground by the night's condensation settling over Sebring.
Walking briskly up the midway and across the walkover bridge I feel amazingly good despite the lack of sleep. It is race day and this is adrenaline. No matter how early I try to get to one of these photo meetings, they always seem to be in progress when I arrive. Morning warm up comes and goes and I grab a cup of coffee and ask Sebring media director Ken Breslauer who he favors in the race. He goes with the Audis, based on reliability and in GT picks the RLR BMWs; saying that he has "seen the script". I think he wrote the script! As far as the GT prediction is concerned.
For all the buildup, waiting, excitement and months of anticipation for the green flag, I detest seeing it wave. I know from experience that the rapid repetition of race cars in a clockwise direction speeds up the Space-Time Continuum. As soon as the race starts, it seems that it is 10:30 and the fun is done. I head to the media room for the press conference and I'm amazed that I am among the few attending. Where are the credentialed masses now? No worries, I don't mind being among the few privileged enough to query the winners. By the time the last of six class winners are on the podium, less than five of us are in the room! I direct the last question of the 59 th Annual Mobil 1 Twelve Hours of Sebring to Boston's Tim Pappas. It is after midnight and the spring ritual is over for another year.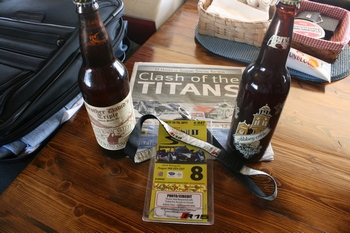 Seventeen hours after I left the motor home in darkness I return and it is strangely quiet. Just when I am ready to kick back with an adult beverage, the revelers are few and far between. No cruisers, blaring music and sirens, just some quiet conversation with some stragglers with what voice is left. Butch turned out the lights on the Tiki Bar for another year. The next thing I know George is up and at 'em and threatening to pull up anchor and drive while I sleep. No thanks; sunglasses? Check. Hit it! Per our tradition we stopped at the Pioneer Restaurant in Zolfo Springs for a post-Sebring recovery breakfast. Mine is just one account of the thousands of stories that make Sebring what it is. See you next year!