SUZUKI BIG KAHUNA NATIONAL
PRESENTED BY PARTS UNLIMITED
Road Atlanta enjoyed the double Superbike format, one race on Saturday and the other on Sunday. Suzuki riders thought that, since their manufacturer sponsored the race, that it entitled them to sweep the podium. And they were right! The resurgent Jamie Hacking rode to first aboard intermediate tires on a drying track, holding off the hard charging Mat Mladin, who started the race on slicks. Local favorite Aaron Yates rode to third on his Suzuki to complete the podium sweep.
Not much changed on Sunday. The Suzukis were on top once again, this time with Mladin finishing first, followed by Yates and Hacking. Miladin's 2nd on Saturday, coupled with Sunday's win, made the Aussie this year's Big Kahuna.
Fellow Australian Anthony Gobert's 600 and Superbike wins at Sears Point suddenly seemed a distant memory, as he could never get untracked on the weekend and work his magic or even stay on pace with the Suzukis. Nicky Hayden, who finished 4th, a half minute behind Hacking on Saturday, suffered a spectacular crash on Sunday, was able to heroically remount his RC 51, but none of the Hondas were a factor during the weekend. The Harleys had a chance on Saturday on a damp track, but when conditions dried, so did Pascal Picotte's hopes of an upset. He finished in 7th Saturday. Bostrom, aboard his Kawasaki looked competitive finishing 5th and 4th, more so than any of the Ducati mounted riders who, despite having competitive equipment, seem to be on another level of talent compared to the front runners. No Ducati riders finished in the top five all weekend.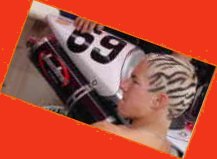 Nicky Hayden Hair
In other racing action, Eric Bostrom did the run and hide in the Pro Honda Oils 600 Supersport race on Sunday. He coasted home after building an insurmountable lead and won by four seconds over Yates and Hacking. The Lockhart-Phillips USA Formula Xtreme race was red flagged on Saturday to clear the track, when Jason Pridmore high sided, broke his leg and was left in the impact area after turn one. Torrential rains put an end to the program on Saturday afternoon and the remaining 8 laps were run on Sunday. Suzuki's John Hopkins took home the victory, followed by Josh Hayes on a Honda and Damon Buckmaster on a Yamaha.
It was Rich Oliver, winning his 51st AMA National, aboard his Yamaha, in the 15 lap MBNA 250 Grand Prix on Sunday. Chuck Sorensen and Jimmy Filice place 2nd and 3rd. Suzuki swept the podium once again in 750 Supersport. Mike Ciccotto, Brian Parriott and Ben Spies won the race sponsored by, you guessed it, Suzuki!