IZOD IndyCar Grand Prix of Baltimore
There was more to lose than gain for Will Power and Dario Franchitti on an unknown narrow, concrete wall lined street race in Baltimore's Inner Harbor at Camden Yards. In fact, anxiety levels could have risen when the start of practice on Friday was delayed twice to complete last minute construction on the circuit.

As opposed to last season, when Will Power held the point advantage over Franchitti as the 2010 season wound down, this year Power is the hunter, Dario the hunted. In fact, Power saw the unknown course to his advantage, citing his success on new tracks, especially street and road courses.

Power was quickest in practice, qualified on pole for the second straight race and cruised to a 10 second victory. He led the most laps, while turning the race's fastest lap on his ninth circuit. The victory drew the Verizon Team Penske pilot to within five points of reigning Champ Dario Franchitti, heading into the Twin Ring Motegi Road Course. The earthquake in Japan caused organizers to switch from the oval to the road course, which is Power's strong suit.
" Baltimore" Oriol Servia continued his string of strong runs with his second runner up finish in the last three races. He did so after qualifying 14th. But nobody had a more eventful day than Tony Kanaan.

In the morning warmup he lost his brakes at the end of the start/finish straight and sailed up and over friend Helio Castroneves' Penske. Kanaan ended up in the tire barriers, with Helio jumping from his car to check on his fellow Brazilian. Both drivers had to start from the rear of the field. Kanaan made the start in the spare oval course car of KVRT teammate Takuma Sato..

Kanaan pitted early for fuel, in an effort to cycle through the field after pit stops. His fortune changed from earlier in the day when there was a pileup in turn three and he came through it unscathed in 11th place. Castroneves stalled in traffic and never recovered, finishing 1 lap down. A quick splash of fuel gave TK an advantage, when the leaders on a two stop strategy pitted with 15 laps remaining. Kanaan drove smart, by defending his position on a track where passing is difficult and conserved fuel to finish third.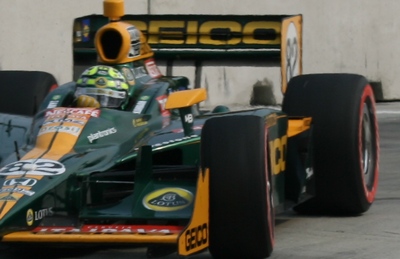 Chip Ganassi Racing teammates Dario Franchitti and Scott Dixon finished in fourth and fifth. Danica Patrick ran a smart race, stayed out of trouble and moved up from her 23rd starting spot to finish sixth.

Power said, "That was the toughest race I've run all year. I'm just exhausted, but that was a Championship run."

The one theme throughout the weekend, despite the teething problems of a first-time event, was how impressed the drivers were with the size of the crowds. The street party atmosphere and the beautiful harbor setting will go a long way to ensure that those who attended their first race will be back for at least the four years remaining on the Baltimore Grand Prix contract.

SARNI MOTORSPORTS BALTIMORE GP GALLERY