California Speedway
CART wrapped up its US season with a history making day at The 500 Presented by Toyota. Jimmy Vasser led 148 laps and won the 500 mile race at an average race speed of 197.995 mph. It was the quickest 500 mile race ever run, shattering the old mark set by Al Unser Jr. in 1990. Little Al held the record for 12 years, at an average speed of 189.727 mph.
Taking a page from NASCAR's rule book, CART invoked their new Red Flag Rule for the second time at Fontana. The other incidence came earlier in the year in Vancouver. Dario Franchitti's Team Green Kool car exhaled its innards on lap 246 in a puff of smoke. When the race was red flagged it spelled doom for teammate Andretti in his Motorola Team Green entry.
Andretti himself had been the beneficiary of a late race yellow, when he used the draft on the restart to get by Vasser. Cristiano da Matta was leading the 500 when his Toyota expired just 14 laps shy of the checkered flag. This year's series champion was trying to repeat his victory of his race at Fontana last year. The disappointment hit hard since Toyota, the presenting sponsor of the race, designs, builds and services the Toyota RV8F engines in nearby Costa Mesa, California. da Matta is heading to Formula One next season with the Toyota Team.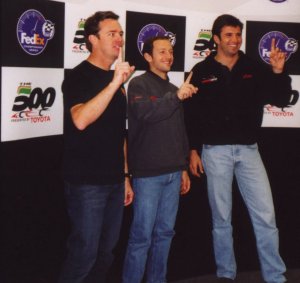 Two Time winner Jimmy Vasser with Christiano da Matta and Christian Fittipaldi before the race
Instead it was Vasser, in his Shell Team Rahal Ford-Cosworth Lola that was the first two time winner at California Speedway. Vasser also won in 1998. The victory was Vasser's first since October of 2000 and it couldn't come at a better time. As of the 500, Vasser was still looking for a racing job for next season.
The fastest lap of the race was recorded by Oriel Servia on lap 234. At 232.114 mph, the time was faster than that of pole sitter Tony Kanaan who qualified at 232.011 mph. Vasser, Andretti and Da Matta also drove their fastest laps of the race on that same lap, each averaging over 230 mph. Canada's Patrick Carpentier came from the 8th place on the grid to finish third, rounding out the all North American podium.
The Red Flag rule and CART's mandatory stop on lap 33 made for a fan friendly shoot out. Let's hope that exciting racing can lead to the salvation of a series, which next year will enter new territory, that of new faces and we hope new teams.