DIESELS DOMINATE THE DAY
The best drivers, in the best equipment; Audi continued its long string of success in The American Le Mans Series. The Audi R10, at the hands of veterans Allan McNish and Dindo Capello, quietly seized another victory at the season ending Monterey Sports Car Championships.

Despite the pole position performance of Stefan Johansson in the works Zytek, the Audis finished 1-2, followed by the Creation Judd V10 and the number 7 Penske Porsche RS Spyder of Luca Luhr and Romain Dumas, which was the first P2 car. After four hours, all four cars finished on the same lap, covering over 350 miles of racing into darkness.
McNish had an incident with Harold Primat entering the Corkscrew that resulted in the Blue # 88, spinning and losing time and shedding aerodynamic body parts in the famed turn. The Audi pitted to fix a tire rub and was challenged by Lucas Luhr towards race end, but a spin gave the Audi the advantage it took to the checkered flag and opened the door for Pirro and Biela to come home second.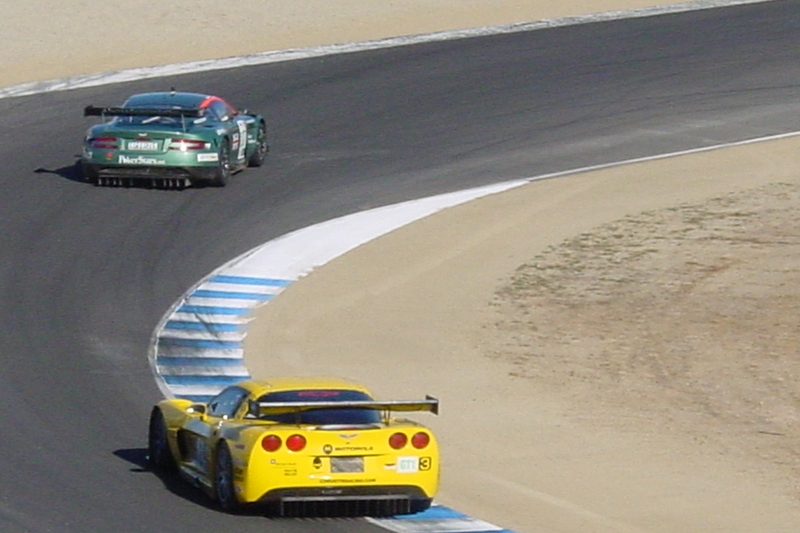 In GT 1, Stephan Sarrazin and Pedro Lamy's Aston Martin 009, finished five seconds ahead of the number 4 Corvette, which was driven by Olivier Beretta and Oliver Gavin. One lap behind them, the number 3 Corvette of Ron Fellows and Johnny O'Connell, finished just a half second in front of the 007 Aston Martin of Tomas Enge and Darren Turner.
In GT2, Mika Salo and Stephane Ortelli in the Risi Competizione Ferrari 430 GT bested the Peterson Motorsports Porsche 911 GT3 RSR of Jorg Bergmeister and Patrick Long. This was another great in class battle with both cars finishing on the same lap.
This wrapped up a historic year with Audi's seamless transition from gas to diesel technology, resulting in continued success. Alan McNish paid tribute to all whose hard work and success rewrote sports car history. In particular, he singled out Michele Alboreto, who died in a testing crash in the Audi R8.
McNish's remarked that he owed a lot of his personal success as a driver to Alboreto, who stood by him and endorsed his talent during a down time in his early career.