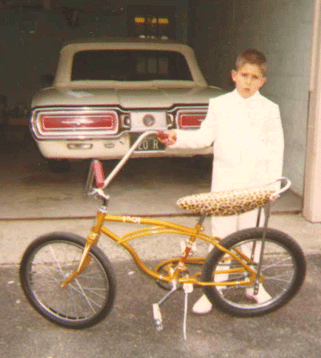 Greg Sarni Bio
Here's where you find out more about me, my interests and background. I have been a DJ since the early '80s, broadcasting music and motorsports at WGIR FM in Manchester, NH, WMVY on Marthas Vineyard and presently at WBRS in Waltham, MA. I attended Boston University, Northeast School of Broadcasting and hold a bachelor of science degree in communications from Emerson College.
My older brother Rick started taking me to races while I was in Junior High, first at New England Dragway and then at Bryar Motorsports Park, both in New Hampshire. I remember those early Trans Am stars like it was yesterday; Mark Donahue, Parnelli Jones and Peter Revson wrestling those big cars around the old track. I even recall the support races full of Minis and Alfas. The smells, sounds and sights of racing, the crowd and communal excitement. The big guy in front of me, gnawing on the Bologna sandwich stuffed full of lettuce and onions, bemoaning the fact that the guy with the camera was allowed to prowl beyond the fences closer to the action. "Next year I'll bring MY camera", belched onion breath. Yuh, I thought, that's the ticket!
Fast forward ten years to my time at Rock 101 in the Granite State. Motorcycle madness had taken hold during the teenage years, dirt bikes preceding street machines. I was interested in covering the AMA Loudon Classic at Bryar. The program director consented to attain me press credentials, "but we don't want to be associated with THAT crowd, so don't mention it on the air!" Twenty five consecutive years of attending America's oldest motorcycle race has allowed me the privilege of witnessing many thrilling moments provided by legends and locals alike. The riders read like a who's who of motorcycle road racing. Kenny Roberts, Gary Nixon and Yvonne Duhamel. Lawson, Cooley, Rainey, Spencer and Merkel. Baldwin, Mamola, Quarterly, Russell and son of a Duhamel.
Traveling to races, seeing other venues and the experience of the journey to the event, began to take hold during these years. Maine, Monterey, Monaco and Montreal, it doesn't matter where or how far as long as there is racing at the other end. New Hampshire finally got a premier track when the Bahre family bought and reconfigured the old Bryar into New Hampshire International Speedway. Now boyhood heroes like Andretti and Fittipaldi were traveling to visit us!
After leaving WMVY, I settled into a blues radio show at WBRS. I became friends with many of the local musicians and decided that they needed better exposure then I could provide through my radio show alone. I arranged a blues festival at Boston's historic Hatch Memorial Band Shell. The two-day free festival is now in it's sixth year and features locals and legends alike. To present the event, I founded the non-profit Blues Trust Productions, which aids musicians with relief programs and career development, through a scholarship at Berklee College of Music. The Boston Blues Festival has also been a venue to promote a motoring lifestyle, specifically through the Ducati Rally and sponsorship of the event from Ducati North America. Sharing motorsports with the music crowd and visa versa has been an effective way to build the popularity of both pursuits.
In addition to the many races in New Hampshire, I have attended both motorcycle and sports car races at Laguna Seca, F1 GPs in Canada, Monaco and Italy and the American Le Mans Series race in Adelaide Australia. The one constant, that transcends language and lands, is the passion that motorsports instills in its patrons and participants. Whether it is a divorced Dad bonding with his boy in Bristol or a band of Brazilians following the F1 circus like a nomadic tribe, personalities and prejudices aside; when the green flag drops, we are one.