2011 LIME ROCK TRAVEL LOG
This is the best part of the trip
This is the trip, the best part
I really like
~ Jim Morrison
Lime Rock is one of the closest races that I go to. Still a three hour drive to the Northeast corner of the Nutmeg state is a legitimate road trip. Throw in some time for stops and doing it down and back in one day and it adds up to at least 7 hours of traveling.
My traveling companion to the 2011 American Le Mans Northeast Grand Prix was my oldest brother Rick, who was visiting from his home in the Netherlands. He took me to my first races; first at New England Dragway and then Trans-Am at Bryar Motorsports Park, which is now New Hampshire Motor Speedway.
Rick and my two other older brothers were also responsible for instilling in me a love of song. Growing up, every summer it was a new Beatles album, the Doors, Jimi Hendrix, CSN and John Mayall. Rick has thousands of recordings, many of which are on his iPod. I had a fun time playing DJ on the trip, with big brother at the wheel of his rental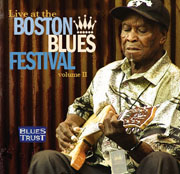 Since Rick was here to visit our elderly Dad, this raceday would be a long hot summer day; beginning and ending in darkness. We left the Boston area at 4:30 AM, so I could be at the Lime Rock Media Center by 8 AM for the mandatory photo meeting. Armed with a box full of Live at the Boston Blues Festival Volume II and a fist full of new Sarni Motorsports business cars from Sun Specialties, the Blues Brothers were on a "Mission from God"; to share our passions of Music and Motorsports.
We would forgo my preferred route on the way to Lime Rock, staying on the Mass Pike (rather than jumping off in Westfield and taking Route 23). Besides the scenery, the appeal of traveling is the people who you encounter along the way. You don't meet anybody by staying home! Characters included rest area store clerks and the check-out lady at Price Chopper, who feel that part of their job description includes dispensing life advice.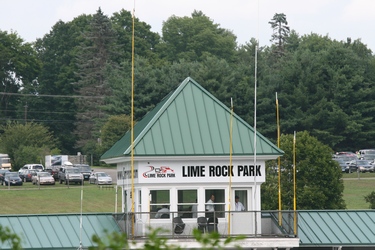 My thoughts turned to some of our past trips to the races; early 80s Champion Spark Plug 200 bike races at Laguna Seca, when Rick lived in Monterey, the 1987 Grand Prix of Monaco, the 2000 Grand Prix of San Marino and the first CART race at NHIS and the race to Logan afterwards to catch his flight back to Europe.
We got to the track just after 7:30 and parked in the paddock. The teams were busy with race morning chores as the park began to populate. The photo meeting was full of the same old, same old. How 'bout pod casting this stuff in the future so I can sleep in? Requirement fulfilled, I receive IMSA blue vest number 826 and watched the F1 qualifying from Silverstone.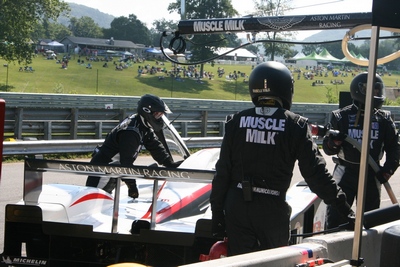 I shot the morning warm up from pit lane and then we staked out some turf in the shade on the hill overlooking the esses as the day went from warm to hot. I reunited with some photographer and Facebook friends and gave out some CDs. With the approval of Lime Rock's Renea Topp, I left a pile in the Media Center (alongside race team PR). The CDs were either a big hit or somebody was pitching them out behind my back, because I had to replenish them twice!
The pre-race grid walk is full of umbrella girl models, a mass of humanity called race fans, brightly colored race cars and team members trying to keep kids from hanging off aero parts. As the grid cleared, excitement built and I made my way to the mound at the lefthander to shoot the start and joined just about every other credentialed photographer! I made my way through the esses, down into the righthander, leading on to the no name straight. I put my camera away and went back to the hillside to hang with Rick for a while and did the shade shuffle as the sun chased us further down the hill.
We hiked towards the back part of the track, the chicane, uphill and West Bend. I saw some dedicated Lime Rock faithful, who I have seen camping at the track since the IMSA Camel GT days, when the field was full of prototypes, with no less than five factories involved. The point is, these fans show up for the event and the vibe that can only be felt by traveling to and attending a race in person.
Back at the hillside, our chairs were in full sun. Another layer of sun block applied, we settled in for the last laps. People watching at the race is always fun. Uninterested kids with A.D.D. torturing their parents, scantily clad ladies who think they are the show (who's to argue)? Watching what people are snacking on and drinking is always fascinating. Car corral wankers, who show up to show off and then shove off before race end. It is all part of the spectacle that makes attending so much fun. As a member of the privileged press, I'm grateful for the access behind the scenes to understand everything that encompasses the efforts of the competitors. As an event professional, I empathize, learn from and analyze how the track staff and series professionals go about their jobs.
What I will never stop doing is interacting with and listening to the paying public; what they like, dislike and how they feel about the current state of racing in America and around the world. Just like I listened to and learned from my older brothers, I am still fascinated by what people have to say.
As we left the track and experienced the beautiful backroads between Lime Rock and Great Barrington, it was a unique experience for me to be a passenger once again and I took comfort in my brother's role as the operator. I promised him a tasty dinner in Great Barrington at Baba Louie's; one of my favorite places for pizza. They specialize in woodfired, organic, sourdough pizza. I have invented my favorite pie and to my amazement, they still have not added it to the menu! But if you go, ask for the Gregorian; a white pizza with Kalamata olives, portobello mushrooms, roasted garlic and arugula.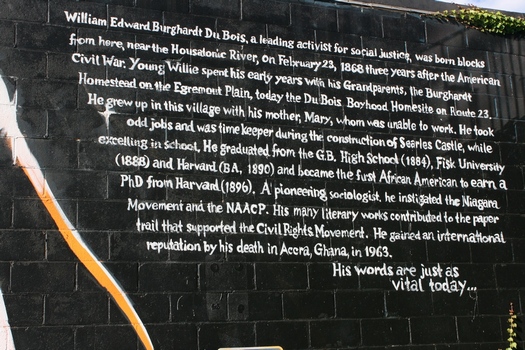 While we were waiting for a table, we walked around Great Barrington and handed out Boston Blues Festival CDs to complete strangers, to various reactions. We saw a giant wall mural dedicated to W.E.B Du Bois, who grew up nearby in Egremont and became the first African American to receive a PhD from Harvard. He inspired dialogue in America about equality and was a role model to Martin Luther King and Barack Obama. It brought to mind some of the Blues Trust Lifetime Achievement Award recipients, like Honeyboy Edwards, who grew up in the Jim Crow south and lived long enough to attend and play at Obama's inauguration.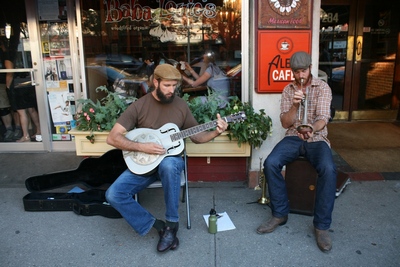 We returned to the restaurant and shared more music with the host and the waitress. Our server was overjoyed to receive the compilation. After our satisfying meal, as we left Baba Louie's, there was a pair of street musicians busking on the sidewalk in front of the restaurant. One guy played National Steel guitar and the other trumpet. They killed on a version of Louis Armstrong's St. James Infirmary. I dropped a copy of the CD in the guitar case and their eyes widened as they nodded and thanked us. Music and Motorsports – shared with the one who inspired these passions many years ago. The circle was complete The twilight ride on Route 23, through rural Berkshire towns, topped off a day well lived.