60th Annual Mobil 1 Twelve Hours of Sebring Fueled by Fresh from Florida
The 60th Anniversary Mobil 1 Twelve Hours of Sebring Powered by Fresh from Florida held all of the makings for a treacherous race; a crowded field of cars and drivers of varying speed and expertise. Remarkably, the 12 hours of racing had a low attrition rate and averaged a caution period an hour. Andre Lotterer qualified the No. 1 Audi R18 in first, but was passed by teammate Allan McNish on the very first lap
.McNish and his teammates, Dindo Capello and Tom Kristensen hold the Sebring record for victories. Add one more for each of them. Kristensen now has six Sebring wins, Capello five and McNish four. They finished four laps in front of the No. 3 Audi of Romain Dumas, Loic Duval and Timo Bernhard. It was the first Audi 1-2 finish since 2005.
The Muscle Milk HPD ARX-03a, driven by Lucas Luhr, Klaus Graf and Simon Pagenaud qualified fourth fastest and was first of the petrol powered prototypes; less than a second off the time of the third place Audi. After the pole sitting No.1 Audi had to make repairs to a faulty shifter, which cost them 17 laps, the Muscle Milk Pickett Racing entry held on to third place for most of the second half of the race. A fueling problem dropped them back late in the going and they finished in 28th. Their consolation came in the form of winning the prototype Michelin Green X Challenge.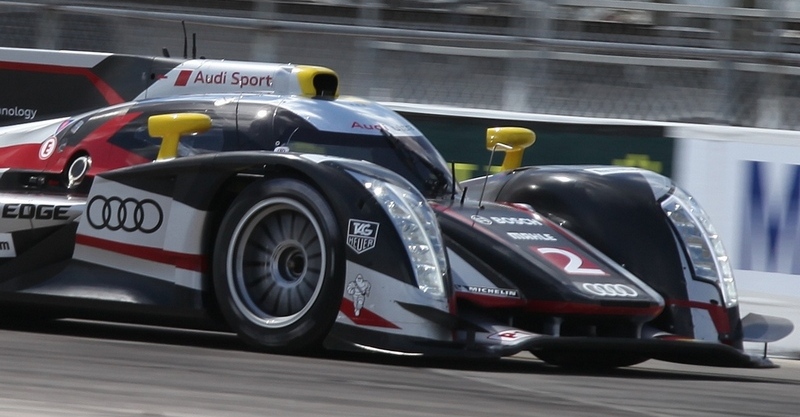 Starworks Motorsports' Ryan Dalziel, Stephane Sarrazin and Vincent Potolicchio finished third overall and first in P2 in their HPD ARX-03b. They got the better of a close battle with the Level 5 P2 entry which finished on the same lap, with the pole sitting Oak Racing Morgan Judd finshing third in class one lap down. The second place ALMS P2 entry was Boston-based Black Swan Racing's Honda powered Lola.
The GT battle was a wild one, with BMW Team RLL's Joey Hand coming through for the win, despite being spun by Gimi Bruni's Ferrari in the closing laps. Hand was battling with the other AF Corse Ferrari, driven by Olivier Beretta for the win, but during the fight Beretta picked up a puncture, which dropped him back to third in class. The No. 03 Corvette Racing C6-ZR1 of Jan Magnussen, Jordan Taylor and Antonio Gracia got by Beretta to finish second in GT.
CORE Autosport picked up the LMPC victory, with IndyCar's E.J. Viso sharing the win with Burt Frisselle and Alex Popow. They finished one lap ahead of PR1/Mathiasen Racing's Butch Leitzinger, Rudy Junco and Ken Dobson. The other CORE Autosport car of Jon Bennett, Colin Braun and Eric Lux finished third in class, one lap behind second place and two laps behind the first place CORE Autosport entry.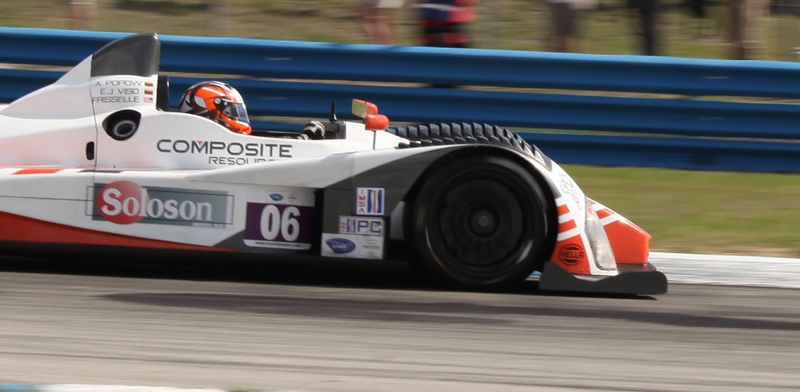 Alex Job Racing placed 1-2 in GTC. Bill Sweedler, Dion von Moltke and Townsend Bell beat out their sister car, driven by Leh Keen, Cooper MacNeil (of WeatherTech fame) and J.P. Dumoulin. It was another close race, decided by just one lap. Green Hornet Racing's Sebastiaan Bleekemolen, Damien Faulkner and New Hampshire's Peter LeSaffre finished third in class, one lap off second place.

In the GTE-Am category, the German Team Felbermayer-Proton Porsche entry of Christian Ried, Gianluca Roda and Paolo Roberti claimed the class win, running a total of 298 laps. They bested the Larbre Competition Corvette of Christophe Bourret, Pascal Gibon and Jean-Phillippe Belloc. The sister Larbre Competition Vette, driven by Pedro Lamy, Julien Canal and Patrick Bornhauser was third in Class.
SARNI MOTORSPORTS SEBRING GALLERY