2012 American Le Mans Series Northeast Grand Prix
The Northeast Grand Prix at Lime Rock Park was a classic endurance race in all regards; especially for the fans. A hot weekend turned to a damp race day as fans waited from 10:30 AM until 3 PM for on track activities. The lack of any support races on the schedule was exacerbated by the failure of the advertised exhibition of the Unlimited Racing Championship to show up and fill track time.
The race fans of the Northeast were the true champions of the weekend with their strong showing and unwavering support. They came early, despite temperatures that threatened triple digits and a light rain which began an hour before the green flag. BMW, Corvette and Porsche car corrals were filled and the parking lot was like a car show with interesting sports cars; just like always at Lime Rock. Fans moved blankets and chairs, as the track's main amenity; shade from the shadows of the trees on the hill, moved throughout the day.
The overcast skies were a blessing, as they mitigated the extreme temperatures. The light rain dissipated and the damp track dried quickly as the green flag fell. Guy Smith and Chris Dyson started from pole in their Lola Mazda and battled with the Muscle Milk Picket Racing HPD ARX-03a, until Lucas Luhr pitted with shifter problems. He lost four laps as the team reset the ECU.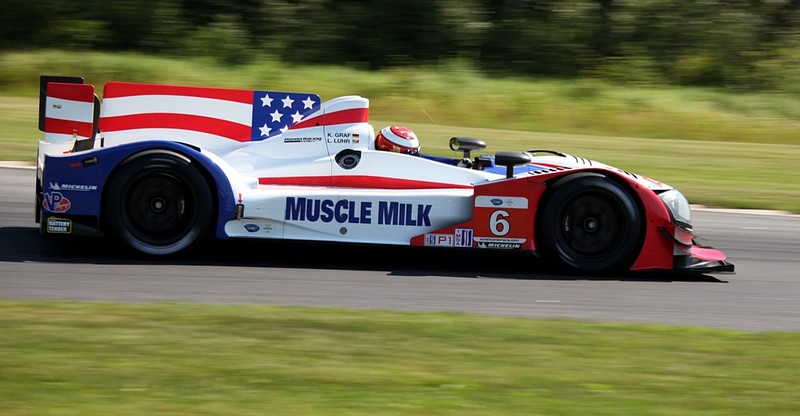 Luhr charged through the field, handing off to Klaus Graf, after making up three laps. The team benefited from some advantageous wave bys from Race Control and Graf passed Smith with a half hour remaining and won as the race finished under a caution caused when the Ferrari 458 of Guy Cosmo was pushed off in the downhill turn by an overzealous LMPC driver with 10 minutes remaining.
The GT battle was won by the No. 45 Flying Lizard Porsche of Patrick Long and Jörg Bergmeister (in his 100 th ALMS start). Jan Magnussen and Antonio Garcia were second for Corvette Racing. Oliver Gavin and Tommy Milner followed their team car home for third place and retain the GT class points lead.
Starting from the back of the field, because of a rules infringement, Scott Tucker and Christophe Bouchut won the P2 class. Tucker's second Level 5 entry, which qualified fifth, never started the race. In a class in which he owns half of the field, Scott Tucker managed to score a win. Good for him.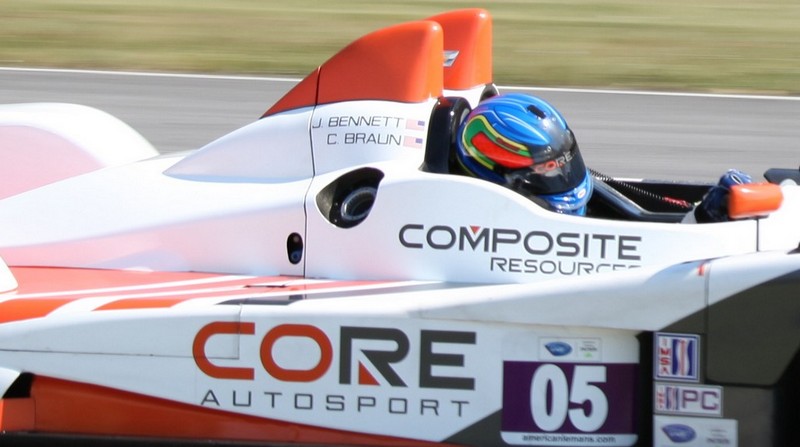 Jon Bennett and Colin Braun lead a 1-2 LMPC finish for CORE Autosport. Alex Popow and Tom Kimber-Smith finished second and hold on to their class lead in PC. Cooper MacNeil and Leh Keen in the Weathertech Alex Job Racing Porsche Cup car won from pole position in GT Challenge. They bested Peter LeSaffre and Damien Faulkner in the first of the Green Hornet Racing's Porsches.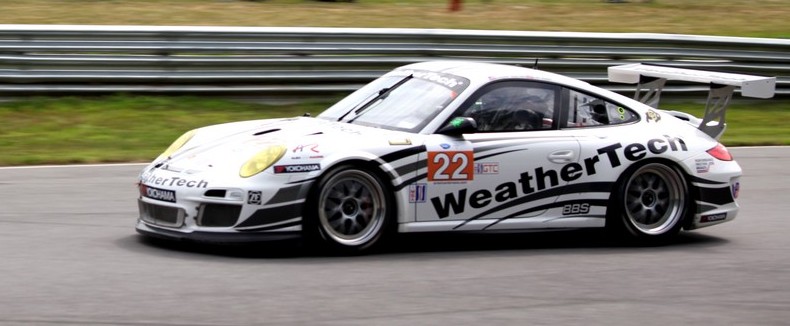 SARNI MOTORSPORTS NORTHEAST GRAND PRIX GALLERY