2011 American Le Mans Northeast Grand Prix
From a hillside in the Berkshires, under a hot July sun, a large crowd clamored for shade and witnessed an assortment of cars and color blasting out of Big Bend. The American Le Mans Series offers a varied engine soundtrack like no other. Big bore V8s and flat sixes, turbo fours and the high pitched wail of a high revving Ferrari and twelve cylinder Aston Martin. For those that journeyed to the Berkshire Hills in Northwest Connecticut, the concert of cars below was the reward. The sounds, smells and sights excite the senses and is what keeps faithful fans coming back to this bullring in the Berkshires, no matter what the car count or percentage of Prototypes to GTs.
LMP1 was a three horse race, with two of the entries coming out of the Poughkeepsie, New York stables of Dyson Racing. The number 20 made its return in a partnership with Oryx Racing. It was a 1-2 in P1 for the Mazda Prototypes, with Chris Dyson and Guy Smith on pole ahead of their new teammates, followed by the Muscle Milk Aston Martin Racing Lola. In qualifying, the BMW Team RLL M3 showed their dominance, with another 1-2 team result led by Joey Hand in the 56 car.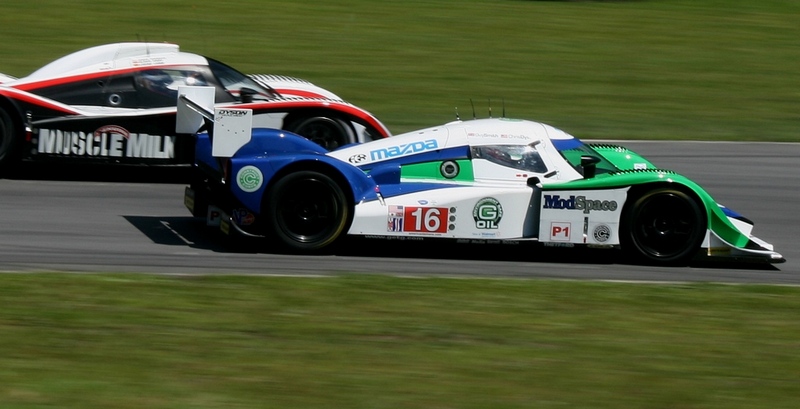 Raceday saw Chris Dyson lead from pole, as Lucas Luhr in the Aston Martin hunted him down through traffic, finally getting by on lap 16. The Muscle Milk car then cut a tire and had to pit, handing Dyson the lead. During a caution on lap 56, both cars pitted and Klaus Graf emerged in the lead, taking over from Luhr. Graf tangled with a GTC car in the esses and Smith took the lead. After another stop, Graf led; until he was passed by Guy Smith on lap 74. The 16 Dyson Racing Mazda stayed out front for the win.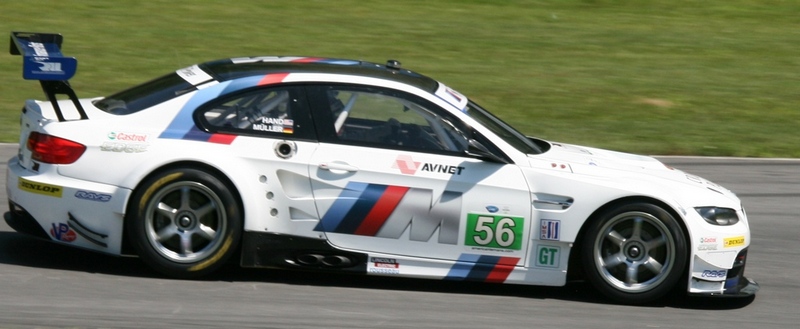 In GT, Joey Hand and Dirk Mueller won from pole, giving BMW Team RLL a perfect three for three on the season. Patrick Long, in the No. 45 Flying Lizard Porsche, passed Dirk Werner, but never got the opportunity to draw even and get by the BMW. The second team car of Auberlen and Werner was caught up in a West Bend pileup that included the 02 ESM Ferrari of Ed Brown and both Corvettes.
David Murry and Anthony Lazzaro were awarded third place after Wolf Henzler was penalized for avoidable contact in a last lap scuffle with the Robertson Racing Ford GT. Henzler, in the Falken Tire Porsche, had a fuel pick up problem, which led to the last lap drama. Team leader Derrick Walker's strategy of just two stops had the Team Falken Tire Team up to second before the Porsche was starving for fuel and had to make an additional stop.

In a close LMPC battle, Eric Lux and Elton Julian won for Genoa Racing. CORE Autosport's Gunnar Jeanette and Ricardo Gonzalez finished just 2.2 seconds behind Lux, who scored his first ALMS victory.
The GTC battle went down to the final corner and the victory was a result of Henzler's slowing GT Porsche, which balked leader Spencer Pumpelly. Dion von Moltke was able to slide underneath on the way to start/finish for the Class win. The close confines of Lime Rock Park once again proved to be the race story. Those that played in traffic nicely were rewarded with a positive outcome.

SARNI MOTORSPORTS LIME ROCK GALLERY